Home again. Let's get the moans out of the way first. I have another cold, a gift from my son on the way over to Tenerife, and one I've probably shared with all the occupants of the return flight. For which I apologise, I did my best to cover my mouth and blow my nose just like my Mum told me.
And our heating has broken down while we were away, so despite everyone in the village telling me what a lovely day it is, I'm acclimatising in reverse in two fleeces, some gloves and a thermal hat.
Of course, while we were over there we had the usual flights of fancy about how nice it would be to leave England and live somewhere warm all the year round. Or, given our recent Summers' weather, warm at any time. But, for all my moaning, I do actually love Somerset. And I can't wait to reveal this jersey in the baking hot and dry Summer of 2013 that is on its way to these shores.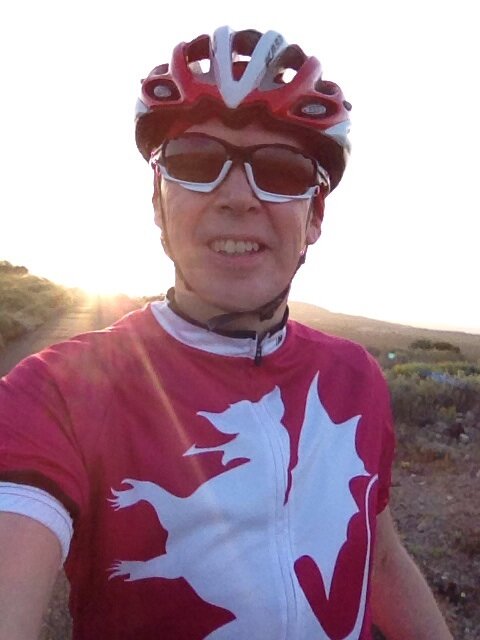 This one was taken just after dawn on my quick ride before breakfast on Tuesday. By then I had already come to the conclusion that family holidays and cycling trips do not really mix that well together. And like all multi-functional devices they end up being deficient in all aspects to a degree.
For starters the location of our hotel was about 10 miles away from Las Americas, a deliberate choice to take us somewhere a little quieter and more family-orientated. Which it was, but it also took us another 10 miles away from the base of the big climb up the volcano, and meant navigating through some confusing one-way systems. It was also not close enough to the really picturesque places either.
Nonetheless, I picked my hired bike up from the hire shop on the Saturday and rode it back to the hotel, complete with track pump in a bag over my shoulder. Not ideal, but it improved my bike-handling skills as well as sharpening up my wits to the traffic flow. The temperature the whole time we were there was in the mid twenties Centigrade at sea level, with some cooling at altitude.
Knowing that I was likely to catch the cold from junior Mendip Rouleur, (as he had sneezed on me on the flight all the way there!) I decided to have a go at climbing the volcano on the Sunday.
Mount Teide
is the highest mountain in Spain, as well as a dormant volcano, and offers the longest continuous ascent in miles and height in Europe on a road bike.
I set off about 8.15AM having promised to be back for child-entertaining duty by 3PM. I always knew this was going to be a difficult challenge to meet because of my lack of fitness, not made any easier by the lack of riding this year and lack of acclimatisation in Tenerife. Or by the puncture that I got after half an hour before I had even reached the base of the climb. Which then meant riding on an under-inflated back wheel, with only one spare tube.
Nonetheless, I gave it a very good crack, but boy was it boring. Unlike in the Pyrenees where there is always a beautiful view, and regular changes of outlook, this road just heads in one direction through the arid landscape. On and on the climb goes as you can see from my
route.
After climbing the short trip out of the resort, navigating Las Americas again, it was about 17 miles of climbing (27kms approx.) for a vertical height gain of about 5200 feet (1575metres), before eventually, I called it a day. I was about 8 miles from the summit, and another 10 miles to the base of the peak proper, but I had just run out of energy, interest and time, especially important for the harmony of the rest of the week.
And being a totally unsupported ride I had carried a gilet, leg & arm warmers and hat & gloves for the descent. I had been warned that it can get pretty cold at the top, it had been down at UK-like temperatures just the day before. And I did need it coming down too, pretty chilly at least until I got back down a couple of thousand feet or so.
I did a couple of short rides later in the week.
One
, on an empty stomach, just before breakfast, involved a nice climb up through a banana plantation.
On the coach back to the hotel I was feeling decidedly rough, I knew I was on borrowed time, so just had time for one quick ride next morning before I returned the bike to the shop. The bike, a Focus Cayo with Ui2 was pretty good. The tyres were a bit square but the set-up was just about right, notwithstanding a little niggle in my back. Given my back/neck issues that's fair enough, the main downside with hiring is not being fully confidant on the how the bike will handle on a fast descent. So I didn't do any and came back un-crashed!
For my last ride
I took the coast road a bit further on the Wednesday, before turning inland again this time towards the town of Guia de Isora, with an 8km climb at a steady 6-7%. This was also quite beautiful, and I was able to ride straight back to the shop before the cold took hold.The final blast down the main road was great though, even allowing for some of the crazy driving, tunnels, and bends over the ravines. One thing you can definitely say about Tenerife is that there is no flat terrain anywhere, it's a miracle they managed to carve out space for an airport and roads.
For the whole week I managed 105 miles and 13611 feet of climbing. Not spectacular but respectable and very good training, I certainly felt the hills getting easier as the week went on. Above all it was great to cycle in warm sunshine and feel the skin soaking up the Vitamin D.
There is a different sky
in Tenerife. Not just the procycling mob who use the place as their winter altitude training base. Nor even the brightness in the atmosphere that reflects the arid nature of the hillsides. And it isn't even the fireworks that erupted after the end of the carnival procession in Santa Cruz on Shrove Tuesday.

It's the eddies and echoes of the past. Someone wandering around not quite knowing what to do with himself, and yet still with some kind of inate purpose. All done for the best of intentions, that somehow didn't quite work out, or succeed in the way I planned. But, you make the best of it don't you, and do your best to get better next time.